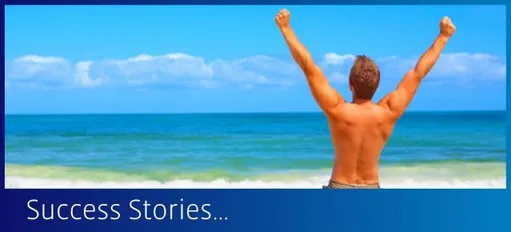 "I began seeing Dr. Loaiza in January of 2007. I had been trying to get pregnant for about four years and had seen many other doctors over that time. I tried everything from low level infertility treatments to massage to acupuncture. My husband and I had discussed going further with traditional infertility treatments and decided that not only was it expensive but it was very stressful. A close friend knew how much we wanted a second child and mentioned that she knew of several people who had gone to a doctor in Orange County who took a natural approach to conception. In January I made the decision and made my first appointment. After an hour and a half of feeling like a living science experiment (in a good way J), Dr. Loaiza said he was hopeful that I would be pregnant within six months (no guarantees of course, but I felt like there was hope). After about four and a half months of regular visits I will never forget the day that I went in for my appointment and was able to say, "It worked!" Dr. Loaiza has not only been able to get my body working normally again but has made the process almost fun. I saw immediate results from treatment and feel really good. It is also nice to know that this process not only resulted in a baby on the way but was healthy for me as a whole. I cannot say enough about Dr. Loaiza and his office staff. Everyone is wonderfully supportive, friendly and efficient. I appreciate everything they have done for me and my family! I would not hesitate to recommend this option for anyone who wants to be in the best health they can be and I have recommended Dr, Loaiza to several friends already!"
Lara G.
"When I first saw David (Dr Loaiza) I was suffering from severe panic attacks. I was getting them 5-7 times I day and they were totally debilitating. My doctor had put me on Prozac and I got worse, way worse. Well, the first time I saw David I saw him for back pain. As I poured my story onto him .. he smiled.. and told me that I was going to be just fine. And basically he found my seratonin problem. Put me on the right supplements, taught me how to eat. Since that day 7 years ago I have been panic attack free. He has also helped me with many other smaller ailments like sluggishness, stomach problems and many more. I owe my life to David. He is one of the most caring and wonderful individuals you will ever meet."
Edna E.
"The very first time I saw David Loaiza I was impressed that I had one treatment and then he gave me some stretching exercises to do at home to complete my recovery. Over the years he has been effective at addressing a variety of injuries and aches quickly and conservatively. He is knowledgeable, insightful and warm. I recommend him to many friends and colleagues. He is a very good chiropractor."
Dean B.
"Dr. David Loaiza provides excellent service in a friendly and comfortable atmosphere. His techniques well surpass any other chiropractor I've been to, and the results are amazing. As a mom of 2 children, I have struggled with lower back pain for years. Most of the doctors who have treated me have either masked the pain with medication, or found ways to temporarily relieve the pain, which would always come right back. After only a few sessions with Dr. Loaiza, I was able to function normally and was pain free. I highly recommend Dr. Loaiza and his amazing staff!!!!"
Danielle B.
"The staff and Doctors at Rancho Niguel Chiropractic are the best. I have been a patient for over 15 years and have found them to be caring, diligent, skilled, and amazing resources for the total care and health of my body, as well as, my whole family. I love that when I walk into the office, I am greeted warmly like a friend by the front office staff. I am seen promptly and in a personal and professional manner by Drs. Loaiza and Martinique. There is no assembly line routine here a Rancho Niguel Chiropractic. I have never felt rushed or brushed aside. I have always felt that they care and listen to me. Even when I have called in pain, the staff has always tried to fit me into an appointment as soon as they possibly can. I have recommended Rancho Chiropractic to my extended family and friends, who, by the way, I always run into while I'm there for my adjustment!"
Debbie G.
"I was being treated by an orthopedic doctor for a shoulder injury that had gone into frozen shoulder. He told me that I needed to have surgery or a manipulation if I was to ever regain my range of motion. I decided to see Dr. Loaiza and get his opinion. After the first few visits my range of motion started to improve. I am so excited about the healing! Dr. Loaiza is a very gifted Doctor who cares about the whole person he is treating. Dr. Loaiza has helped tremendously! My shoulder is almost completely healed."
Gayle C.
"In 1995, when my wife and I moved to Orange County from Michigan, one of the first things we wanted to find was a great chiropractor. We were referred to Rancho Niguel Chiropractic from a friend in Mission Viejo. Dr. Loaiza has treated every member of my family at some point. Having kids that are involved in athletics often brings issues of strained muscles and misaligned bodies.
Frankly, I was not familiar with Kinesiology before meeting Dr. Loaiza. The combination of Kinesiology and Chiropractic treatment has made a huge difference in the results that our whole family has received. Over the past 15 years, Dr. Loaiza has helped me personally with the release of strained and stressed muscle tension in my neck and lower back. He also helped me skirt back surgery after a herniated disk tissue. He taught me how to properly exercise and stretch to strengthen my lower back and core.
The most refreshing thing about this professional is the fact that he is able to quickly and efficiently get to the problem, alleviate it and show you how to strengthen that area. For me, he has done this in very few visits versus having to go back several times. It's amazing how he can "fix" the issue so quickly. I have referred dozens of people to Dr. Loaiza over the years and have never had anything but highly positive comments."
Michael F.
"I was referred to Dr. Loaiza from my sister, who had just raved about him. I had surgery on my knee years ago for a torn Medial ME Discus and was sure I had done it again. I saw two chiropractors in the area and both suggested after 3-4 visits that I go to an orthopedic surgeon. I followed my sister's advice and made an appointment with Dr. Loaiza, and the office fit me right in. After one visit he assured me that he would be able to help me after a few visits, and I was thrilled with the outcome after three visits! I have been back to the office many times for other sports-related injuries and have always had amazing results."
Ann Marie M.

Rancho Niguel Chiropractic 27401 Los Altos Ste 485 Mission Viejo, CA 92691 (949) 831-1932 Serving Mission Viejo, Laguna, and Ladera Ranch